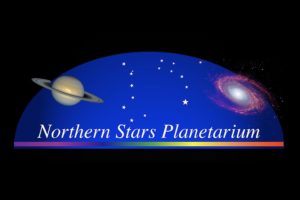 Northern Stars Planetarium at the VCS School gym. Thursday, June 23.
This event is filled! We can not accept new registrations.
Register: https://forms.gle/Vu4MwmMaMcMAMSx5A
Please arrive early for seating. Masks are required by the presenter inside the dome.
Exploring Our Solar System. 11a-12
Let's explore the planets and dwarf planets, both as seen in the night sky and as visited by space probes. The show includes a constellation point out as well.
Galaxies. 1-2p
What are galaxies? We'll begin by examining our own Milky Way in several different ways using different types of light. Then discover how we learned that other spiral nebulae are actually galaxies separate from our own. We'll see to the edge of the known universe to see the oldest galaxies of all.
A World of Sky Stories. 2:30-3:30p
Legends of the sky from around the world are told live under the stars. Hear stories from Australian Aborigines, Inuit (Eskimo), African Tribes, Japan, India, the rain-forests of South America.