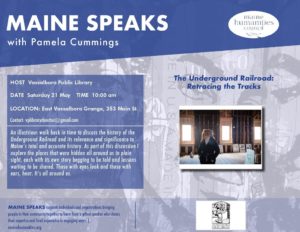 The Underground Railroad: Retracing the Tracks.
An illustrious walk back in time to discuss the history of the Underground Railroad and its relevance and significance to Maine's total and accurate history. As part of this discussion I explore the places that were hidden all around us in plain sight, each with its own story begging to be told and lessons waiting to be shared. Those with eyes look and those with ears, hear. It's all around us.
Pamela Cummings is currently President of the Board of Directors and Director of Education Programs for The Abyssinian Meeting House. She is also the creator and writer of two books and the founder of A Walk Back in Time, a theatrical walk retracing the footsteps of enslaved people in Portland, Maine–from the Custom Wharf to The Abyssinian Meeting House and slavery to freedom.